Automate conversation with your prospects,
from start to closing deal
Increase User Engagement
Subscribers are more likely to open messages from your bot compared to campaigns.

Convert Leads to Customer
Convert leads to customers by sending important content in your automated flows.

Quick Query
Response
Respond quickly to customers on any query either related to Order, Ticket, or any other without manual intervention
Convert WhatsApp conversations into business results
Strengthen your sales, marketing and support with Automated WhatsApp Chatbot for Quick and easy business solutions
Features offered by CRMTiger's WhatsApp Chatbot for vTiger
Use Chatbot tools that will help you set up high-quality WhatsApp bot
Support Multiple WhatsApp
Separate WhatsApp bot with multiple WhatsApp numbers for the different operations of the company from sales, support, and marketing
Drag and drop Flow builder for creating chatbots
Create flow, set up auto-replies, set conditions, integrate with CRM and organize the conversational logic of your chatbot. You can build effective sales,support and marketing flow with chatbot builder tools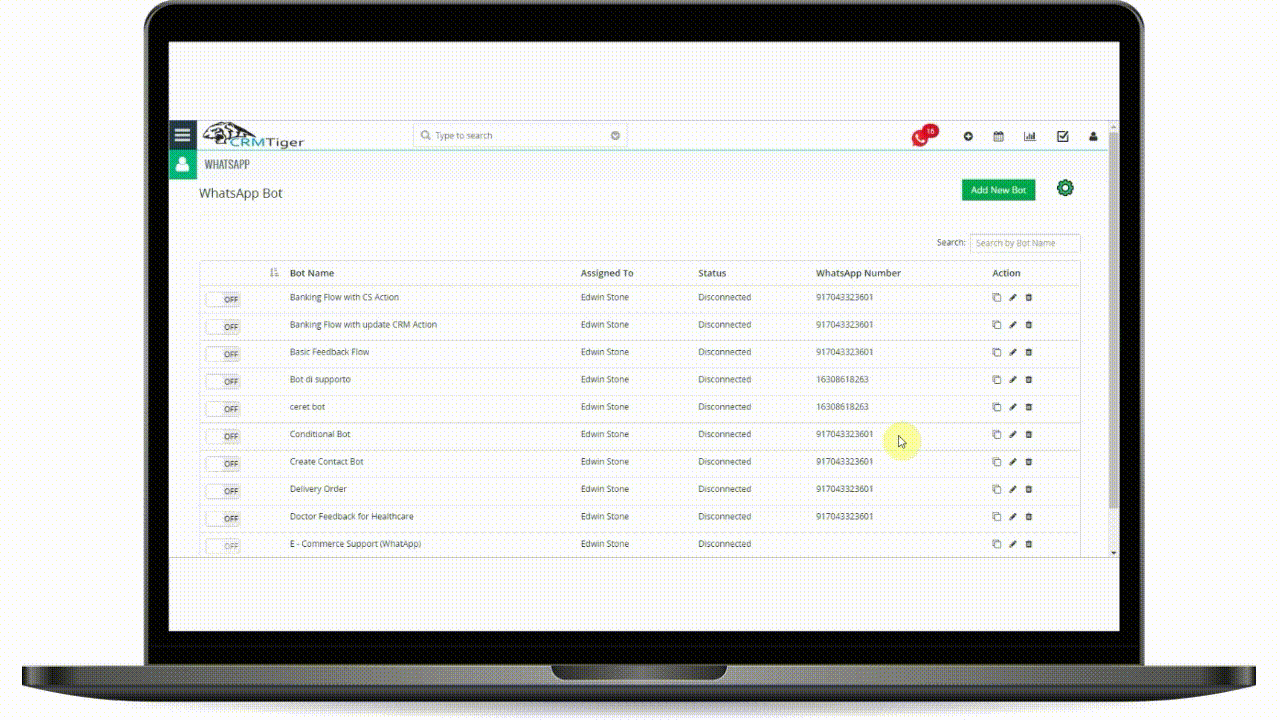 Readymade Chatbot Template Library!
Explore our selection of bot templates for the top business use case scenarios.
If you're looking to optimize your lead generation strategy with a sales bot, increase the efficiency of your customer support or boost your engagement with your industry-specific customer whether it's retail, healthcare, real estate, or any. we've templates to get you onboard quickly...
Affordable pricing plans for WhatsApp messages
Per CRM For Unlimited Users
Launch Offer - 10% Discount on all plans. Coupon Code: WHATSAPP10
Monthly |
$20/Month
---
5000 Conversation/Month
Price valid for ONLY one CRM installation
Unlimited bot setup
Support Multi-Device WhatsApp Connection
Additional charges of $10 per 1000 message.
Free WhatsApp bot templates
* WhatsApp Chatbot only works if you've order WhatsApp extension.
A Word From Our Customer
FAQ
CRMTiger will offer a "Vtiger extension for WhatsApp Chatbot" integration that you need to install on your vTiger CRM.
WhatsAppChat bot with vTiger only works if you've license to activate WhatsApp Integration for vTiger extension. It means you should have WhatsApp extension installed and activated then you've to purchase "WhatsApp Chatbot Addons for vTiger" from https://crmtiger.com/whatsapp.
Activate license key for WhatsApp Chatbot. Click here For more information on how to install.
CRMTiger offers following "vTiger WhatsApp Chatbot Integration".
1. $20/Month with 5000 conversation per month
No, WhatsApp extension price includes installation to only one Domain, for each new domain you have to procure a new license.
CRMTiger support WhatsApp end to end encryption so it doesn't stores any information about the conversation between two parties to their respective server.
Visit detailed installation instruction here.
If you wish to buy WhatsApp Chatbot then you should have a base license of WhatsApp integration for vTiger purchased and activated before you buy WhatsApp Chatbot Addons.
Once you've WhatsApp extension install and activated, Please goto https://www.crmtiger.com/whatsapp and purchase
WhatsApp Chatbot for vTiger Allow 5000 chat conversations per month. If you wish to get more per month then contact us on support@crmtiger.com
No, You can use any of your existing WhatsApp number already scanned/register using WhatsApp extensions already installed in your vtiger instance.
There is no limitation on users but admin has rights to assign users who use the WhatsApp Chatbot to be configured using WhatsApp Chatbot Builder.
Yes, WhatsApp Chatbot extension is additional Add-ons on Top of regular WhatsApp extension from CRMTiger. If you've your regular WhatsApp extension working and activated then only WhatsApp Chatbot will work.
No, WhatsApp Chatbot from CRMTiger works as an interface to send / received message so all SPAM restriction feature of WhatsApp automatically applies to WhatsApp Chatbot.