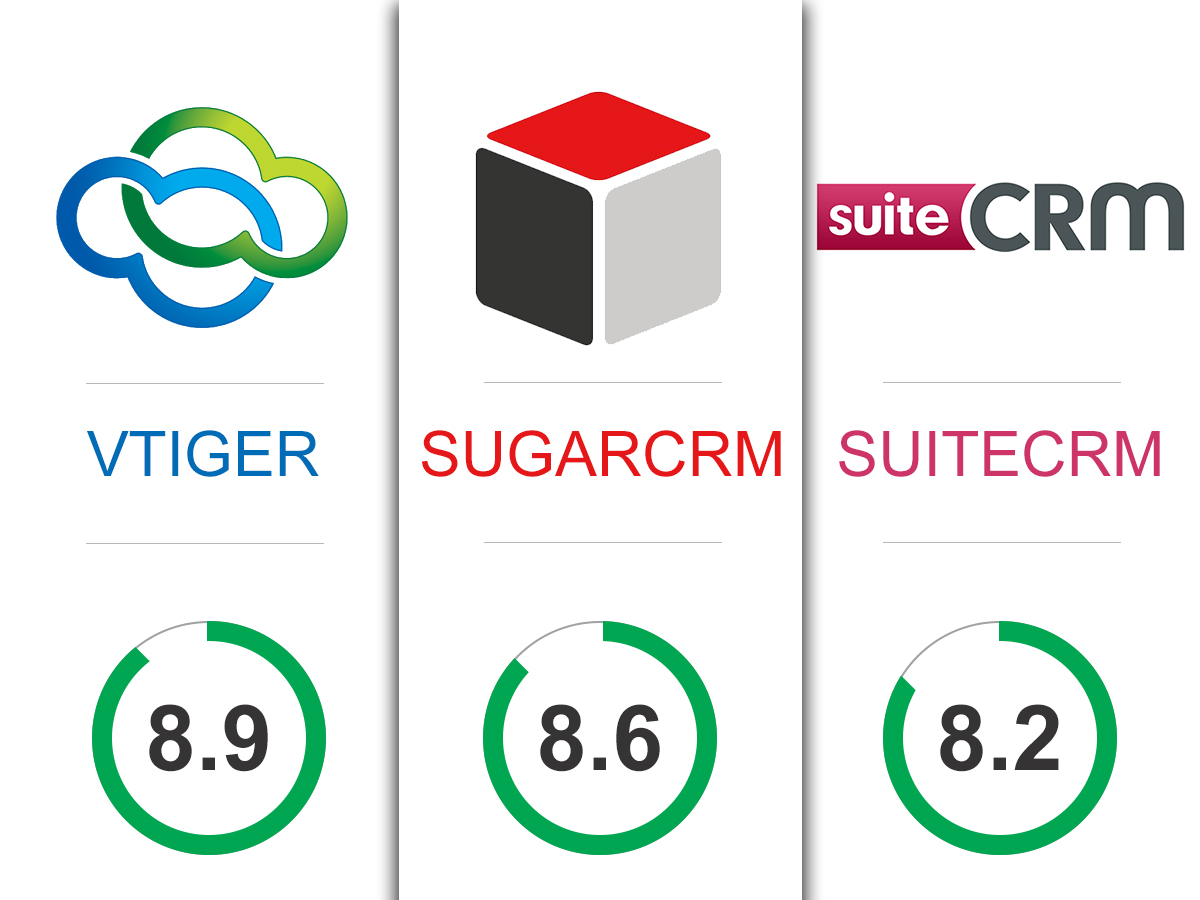 "CRM offers an average return of $5.60 for every $1 spent."
"Between 25% and 60% of CRM projects fail to meet expectations, according to studies conducted over the past decade."

Shopping for a new CRM doesn't have to be painful.
In this text, CRMTiger offers straightforward comparison of three highly used, open-source products as below.
Before we start looking at various aspects, notice that SuiteCRM and vTiger both are open-source versions developed as fork of SugarCRM back in 2004.
Feature
vTiger®
SugarCRM
SuiteCRM
Product Model

Open Source

Closed Source

Open Source

Price

$12/User/Month

$40/User/Month

100% Free

Custom Graphs & Charts

Available

Not Available

Not Available

Custom Reports

Available

Not Available

Not Available

Forecasting Customization

Available

Not Available

Not Available

Web Based

Yes

Yes

Yes

iOS App(official)

Yes

No(From Reseller only)

No(From Reseller only)

Android App(official)

Yes

Yes

No(From Reseller only)

Suitable for

SMEs

Freelancers+SMEs

Freelancers+SMBs

Google Drive & Calendar

integration

Yes

No

No

Community Support

Medium

Excellent

Excellent

Add-on Modules

Good from 3

rd

party re-sellers

Excellent

Excellent

Open API to integrate

with any application

Not Available

Not Available

Available

Quote Management

Available

Not Available

Not Available

User Experience

96%

100%

100%

Total

8.9

8.6

8.2
Source: Based on analysis & research, we don't provide commitment for 100% accuracy


Where SugarCRM Wins:
Although rich in features and functionalities, vTiger CRM is less visible potentially due to average class graphics and visual cues.
However, SugarCRM and SuiteCRM components like Campaign Manager, task assignment screens etc. are a bit more user friendly.
Caution – If you are big manufacturing unit:
If you are a products company and rolling out large scale stocks is the every week/month activity of your business, there are no features for inventory management in SugarCRM, and so you need to apt vTiger or like CRM that incorporates required functionalities.
"73% of companies have no process for re-engaging and nurturing leads after sales."
CRM Architecture Consideration:
From initial point itself, SuiteCRM and vTiger resemble same structure as that of SugarCRM but vTiger has added much more advance application architecture like MVC framework and modules over time.
Comprehensiveness of CRM – Vital Factor to Check:
There are wide array of modules available in vTiger but NOT in other two as on June 2017:
Automated Billing
SLA Management
Sync with Microsoft Outlook
Quickbooks integration
KnowledgeBase
Client Portal
Collaboration Tools
Invoice Management
Opportunity Management
Project Tracking
What We Recommend:
For SMEs: If you are well versed in CSS and can tailor vTiger to look a little better, then it is a perfect solution for you.
For Freelancer: SuiteCRM, undoubtedly, you can start using it right now, and pay only as you go and for what you want. This minimizes spending of coins yet takes your professional offerings to next level.
See How CRM is Helping Customers to Achieve Growth:
22% increase in Pipeline
28% increase in Sales Win Rate
30% increase in Sales Productivity
35% increase in Revenue
48% increase in Forecast Accuracy
CRMTiger helps SMEs and freelancers save time and efforts by nurturing customization of leading CRM software tools.
Let us know if you needs more information on this


Do You Need More Information ?
For any further information / query regarding Technology, please email us at info@crmtiger.com
OR call us on +1 630 861 8263, Alternately you can request for information by filling up Contact Us