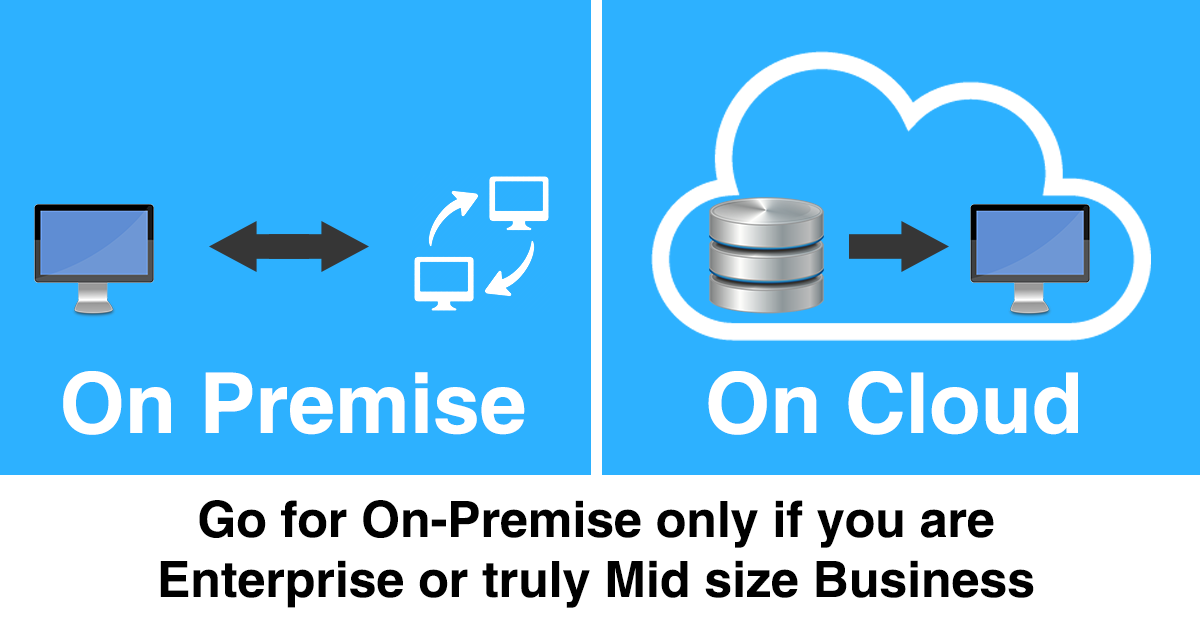 "30% of marketers say having disparate data sources is a main reason why they can't glean useful insights from customer data."

"Sales reps saw productivity increased by 15% when they had mobile access to CRM applications."
Emerging software technologies have captivated minds of hundreds and also created sufficient confusion different terms used interchangeably, like
open source CRM
mobile CRM
industry specific CRM
etc.



So there are doubts and strong debates going on about which CRM you should implement.
CRM softwares are available
   In the Cloud ( SaaS/subscription based access )
   As On-premise solution
   As Hybrid deployment
These 3 are primarily different implementation types of any single CRM.
Therefore regardless of setup, you must check that your CRM provider gives you assisted mobile app also, for all 3
When choosing CRM setup, key factors to consider are:
   Your customization needs and proportionate complexity of system
   Degree of security & scalability available in the context of specific deployment
   Integration requirements with existing systems
   Skills available inhouse – your IT support and resources
   Pricing model and cost effectiveness for long term
Ease of access is paramount to your business success.
Few CRM vendors offer the flexibility to migrate from one deployment model to another.
In this text, we shall asses advantages and disadvantages associated with On-premise and Cloud based CRM only.
| | |
| --- | --- |
| On-premise CRM | SaaS CRM |
| Involves big investment, for hardware cost | Much less expensive than on-premise CRM |
| You would need to purchase the package from its manufacturer and can use it locally on your site via LAN or other type of networking | You would pay monthly fee, normally per user – subscription based. Cannot access without internet connectivity. |
| Installed on your system/computers | Hosted in a cloud of CRM providers'  computer machines. |
| To integrate the CRM to your business environment or ERP, proficient software engineers are needed | Often preferred for easy deployment, yet it is NOT void of web programmers need |
| Its performance depends largely upon the expertise of in-house IT staff | Mostly, does not need in-house IT staff and thus, reduces your IT budget |
| Your business activities do not stop if internet connectivity is slow or down | Depends on internet connection but significant complains are noticed |
| Installed to a fixed destination, unless your own tailoring is expert, anywhere access isn't possible | Can be accessed from anywhere in the world, since all parts of software are web based |
| You can yourself do customization if CRM is open source, this is perhaps the most appreciated reason to prefer On-Premise CRM | The SaaS CRM provider often allows the clients to customize the CRM with custom fields, but source code is NOT available on your computers |
| It's a better choice for complex business needs or when you are IT company or has IT department | More suitable for tiny or retail businesses with limited technological expertise |
| Opens new opportunities for big enterprises with established IT infrastructure | Convenient solution for small and medium size businesses (SMBs) who wants abstraction from technical level details |
| You'll need to maintain an internal server computer to host the CRM | Hosting facility or server computer itself is maintained by the CRM service provider |
| You are responsible for data security and regular backups | Data security, backup and recovery services are often available from SaaS CRM provider but incurs significant extra cost mostly |
Not sure for what to do?
Go for Hybrid deployment.
In this case, you buy licence or an instance of CRM software which is restricted to certain number of users.
Then, you can download and install CRM on your premises or can select a 3rd party hosting provider of your choice.
This minimizes dependency on your CRM provider should hosting settings related help is needed.
My Opinion:
On-premise deployment, mostly.
This gives you 360 degree flexibility for integration and customization.
One important concern is that hosted CRM provider holds your sensitive data that you do not want to expose.
SaaS CRM nullifies possibility of any type of ownership – be it on single instance of closed source software that you paid for.
Real World Example:
If you are an individual who uses softwares and computers to store your personal data for years now, you might be aware of or have heard sophisticated data backup software namely 'Acronis True Image'.
It gives software installation on-premise per user basis and its web based client is also offered along if you don't want to use desktop version.
It is an excellent example of a complex software provider who gives both – On-premise and SaaS at a cost of one.
So you can look for similar kind of providers in CRM domain.
This gives you feeling of both
Data security &
Possessing of some "real" thing or software
Hope this discussion helps you make informed decision.
CRMTiger helps SMEs and freelancers save time and efforts by nurturing customization of leading CRM software tools.
Let us know if you needs more information on this


Do You Need More Information ?
For any further information / query regarding Technology, please email us at info@crmtiger.com
OR call us on +1 630 861 8263, Alternately you can request for information by filling up Contact Us