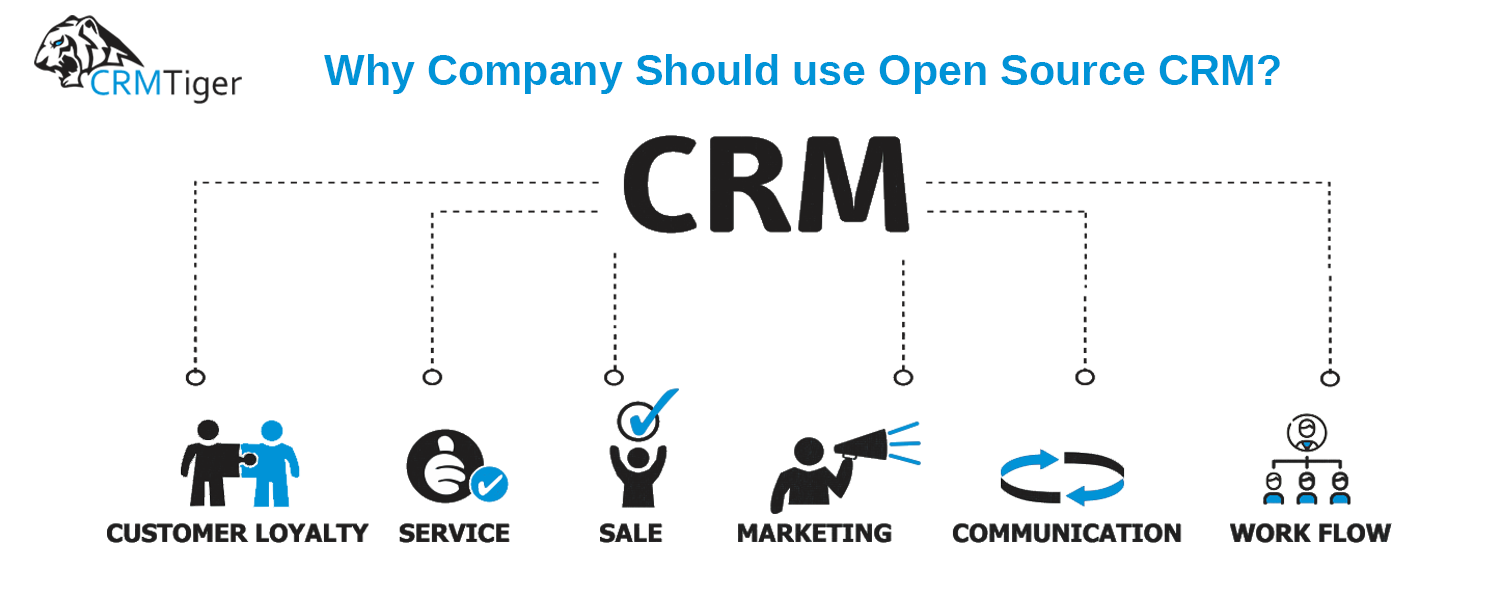 Since recent years, there has been a huge change towards open source software.
Open Source become vital platform on every front because of flexibility of modification as well as complete authority of source code.

Some of the advantage of using open source software as below:
Complete control of your customer data on your server.
No Monthly or subscription fees.
Flexibility of modification of code based without any additional cost if company has inhouse development team.
Open Source CRM is widely used platform for companies who willing to implement CRM for a company.
Some of the Popular OpenSource CRM:
Comparison of Advantage of Open Source CRM over other CRM
Features
SalesForce
Microsoft Dynamics
Open Source CRM
All CRM Features

Yes

Yes

Yes

Pay Per Month

Min $25/month

Min $100/month

Free

Pricing
https://sforce.co/2w9YB0f
https://bit.ly/2JuEPVZ
Free to Download

Monthly Maintenance
& Support
(Consulting)
Very High
($100/hour)

Very High
($120/hour)


$25 – $35 / hr
Ref : All pricing mentioned above based on our study of pricing from their respected website
CRMTiger pioneer in offering OpenSource CRM services to across more than 1000+ SMB and MSME industries to help them to grow.
If you think to implement CRM for your company feel free to contact us anytime on info@crmtiger.com


Feel free to contact us. We would be happy to assist you.
Hope you found this blog useful.
Please contact us on info@crmtiger.com if you needed further help from us.
Do You Need More Information ?
For any further information / query regarding Technology, please email us at info@crmtiger.com
OR call us on +1 630 861 8263, Alternately you can request for information by filling up Contact Us