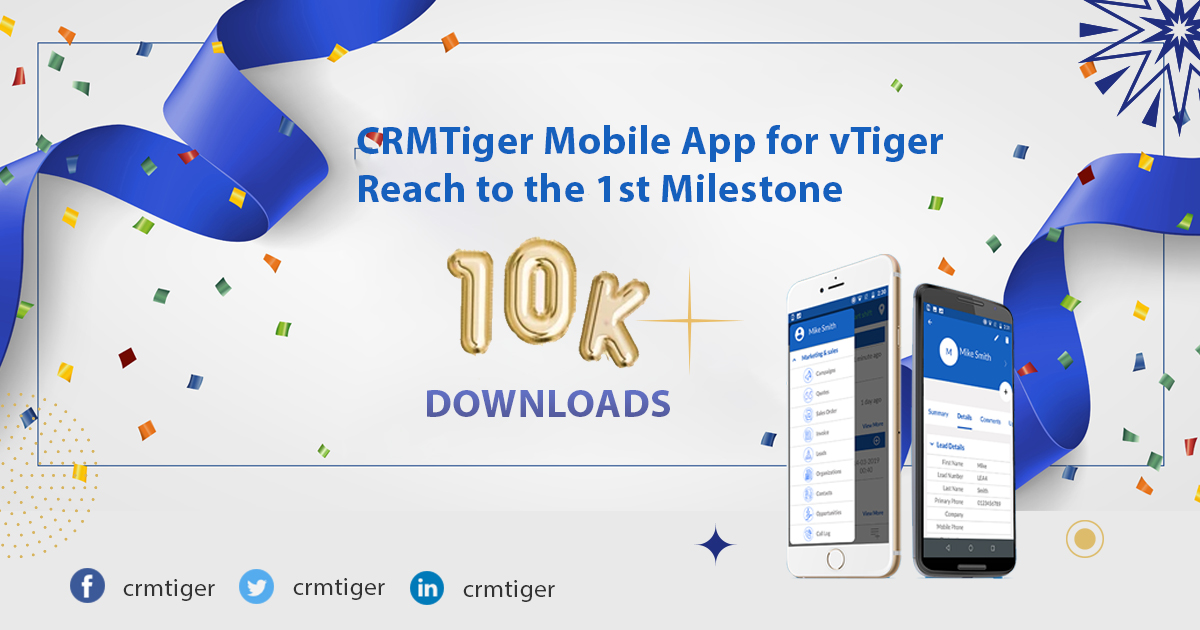 It's been our Pleasure to announce that Today on 11th March 2021 CRMTiger reached the first milestone of 10000+ Downloads.???
Thanks to all our Partners, Customers, Colleagues, mentors and Last but not Least entire CRMTiger Family !!!????

This Journey was not easy, There were a lot of obstacles and stumbling block on the way to achieve these milestones, but without support of Customers and Partners it's never possible to achieve this target.
Our Journey was challenging from starting to 10,000+ Downloads.
Our Path to success passed through failure !!!
2014 : We started building Mobile Apps in 2014 but we failed because of Less of Apps Experience!!!? ? ?
2016 : We tried again in 2016 but we failed to meet customer's expectations and got a lot of Negative reviews.???
2017 : Tried again in 2017 by considering resolution of all problems but again fail due to Lack of Good UI experience.???
2018 : We got nervous( ? ) and decided to not to continue on building Apps, but than in 2018 we realized that without Mobile Apps feature nobody will sustain in Market, So we tried again in 2018 by doing Deep analysis by keeping customer's interest on Top.
From 2018 we're committed to offer High Level of Customer Support to all our customers.
That's the only key to success and because of that we reach a target of 10,000+ Downloads.

To Celebrate this success we decided to offer 10% Discount on CRMTiger's Mobile Apps Plan.
Code : CRMTiger10K
We're committed to consider your feedback on Apps and will try to add in our upcoming release.
Thank you for your support
CRMTiger Team
Do You Need More Information ?
For any further information / query regarding Technology, please email us at info@crmtiger.com
OR call us on +1 630 861 8263, Alternately you can request for information by filling up Contact Us