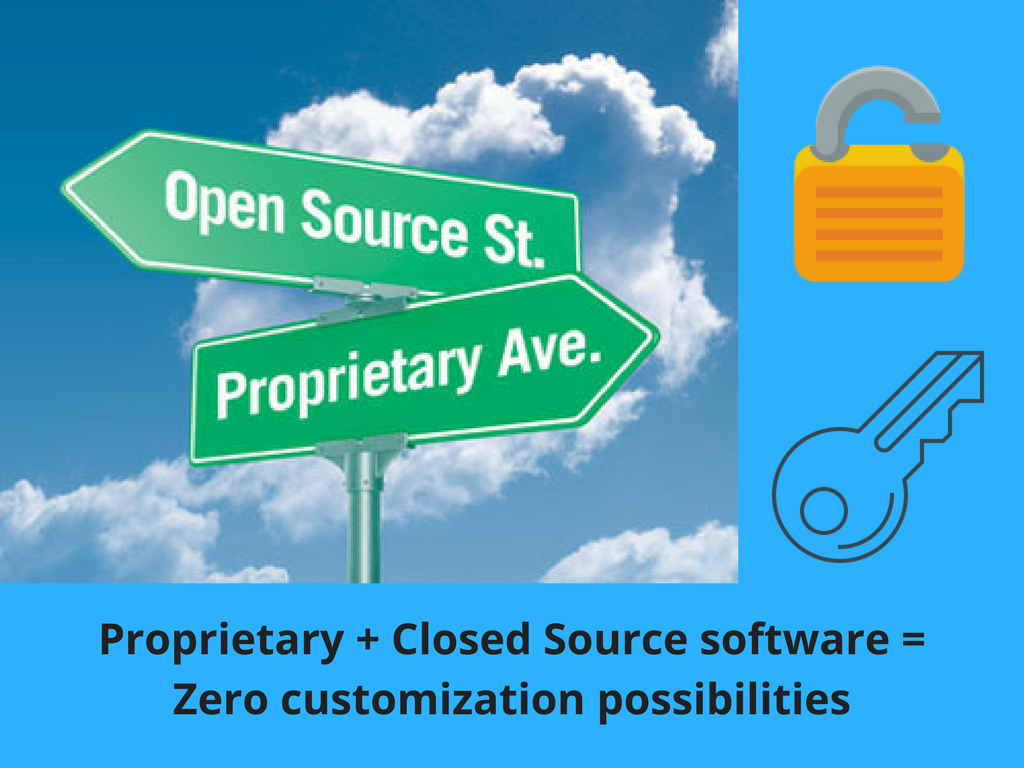 "Sharing of knowledge increases it."
"Once GNU is written, everyone will be able to obtain good system software free, just like air."
– Richard M. Stallman

After you read the title, one thing primarily comes in your mind:
"Why anyone would choose open source CRM as an alternative when so many proprietary vendors offer premium products at par with the cutting edge features in the area of Customer Relationship Management, unless it is matter of Budget as primary factor."
Right?
It is common misconception that open-source software means 100% free or 100% community driven.
No, it is NOT.
Therefore, owner of open-source software simply makes hype of his CRM by providing free access with limited features availability.



This increases number of users using that open-source CRM and once they are habitual so much so that they have started storing data in it for months/years, open-source CRM provider collects money in form of
add-ons or
"extra" facilities or
for support.
So, support for open-source CRM isn't free and there is nothing wrong in it either.
With help of this "support" funds only that they can further enhance it upto level of licence software.
On the other hand, strict licence CRM remains unused people thinking it completely unviable option.
Upto this point, we have answered the question for why open-source CRM is preferable instead strict Licence CRM.
Now let us take a comparative study between open-source and licence CRM.
Open-source CRM
Proprietary CRM

More number of free add-ons are available due to community support, many times if not always e.g.for WordPress

Add-ons primarily are developed by first-source technical team, or even if by 3

rd

party re-sellers, free add-ons are minimized

e.g. for Shopify

Since limited version is available to use for ever, it is risk-free to adapt open-source CRM in legal terms.

Although many Proprietary CRM vendors offer "Freemium" version, it remains for quite limited time period like 1 month.

Depending on type of licence, you may be owner of add-on work you do and can publish or sell it.

Example:

While using Dolibarr CRM, you can sell plug-ins created for in-house requirements

For closed source Proprietary CRM, you can't do customization. For open-source proprietary CRM, provider becomes owner of your customization work.

Example:

For Odoo or like CRM, you need to submit to company significant development you did on open-source codebase

For bug-fixing, you have to surpass many hurdles. Support from a 3

rd

party reseller/provider for this community driven CRM software may be required.

Bug-fixing is easy as you don't have to try your hands on work arounds because documentation remains straightforward. But if you cannot, need to pay again for support to reseller or to company itself.

Cost: no fees, start using it and pay only if you need something customized. Clear Winner.

e.g. open source version of SugarCRM – vTiger is popular due to this vital reward.

Although there is minimum fee to start, it is worth if really economic like USD 10-20/month rather using less widely used fully community driven CRM.

e.g. Many CRM providers compete against SugarCRM by economic monthly subscriptions

Updates: User will have to depend on contributors. This lags behind your business against competitors.

Upgrades are generally fast in accordance with latest tools and technologies.

If you are really facing neck-to-neck competition,  proprietary CRM is highly endorsed.
My Opinion:
For Retail Businesses & Freelancer:
Community run CRM is always first choice, for it is not viable to pay for luxury oriented softwares.
Free CRMs mostly are sufficient that can accommodate minimum requirements.
For Small & Medium Size Businesses:
Depending on your turnover and staff size, you may choose economic rate CRM that maintains real time support.
For Multinational Companies & Enterprises:
100% free CRM will be true defeat for your business growth. Go for comprehensive and premium piece of CRM system. Here also, try to elect open-source package only unless one is too much tested like Microsoft Dynamics 365
CRMTiger offers customization and integration services for a number of CRM systems and other popular softwares like
Magento
vTiger CRM
Dynamics CRM
Prestashop
WordPress
etc.
Hope this discussion helps you make informed decision.
CRMTiger helps SMEs and freelancers save time and efforts by nurturing customization of leading CRM software tools.
Let us know if you needs more information on this


Do You Need More Information ?
For any further information / query regarding Technology, please email us at info@crmtiger.com
OR call us on +1 630 861 8263, Alternately you can request for information by filling up Contact Us