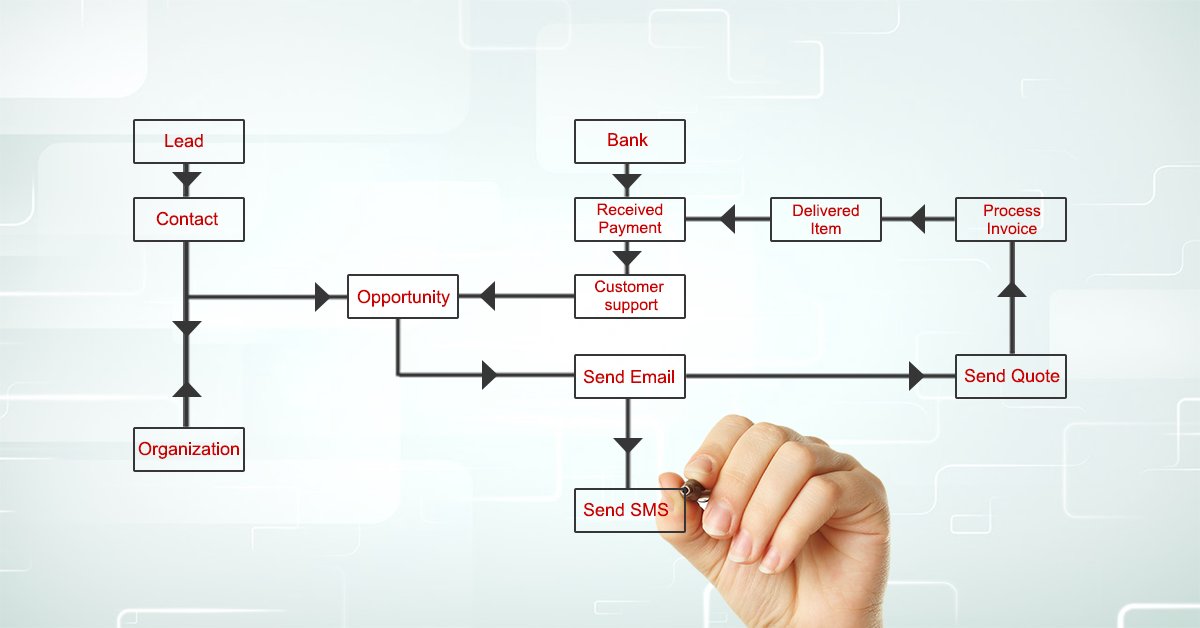 "Size matters. 91% of companies with more than 11 employees use a CRM system, compared with 50% of companies employing fewer than 10 people."

"15% of organizations have replaced all or most of their on-premise customer service applications with software-as-a-service solutions, while 24% use SaaS to complement their existing solutions."
The sales process is seldom linear.
It starts with
prospect call
and ends with
payment collection or
negative reply.
Although industry specific conversion processes differ, there exists common elements.
CRM software well establishes and collaborates these general elements.
On top of this, vertical CRMs are also available which are aimed to accommodate all data points for unique industry/sector needs.
While salespeople have
different approach
methodology and
scripts,
CRM defines simple data collection.
CRM system gives the ability to dynamically update or change sales data.
However, in this article, we do not want to list down advantages of CRM one by one.
We will take a quick look on how you can automate lead conversion process by using any proficient CRM system.


Sales automation: Process & Tasks
Side by side, we shall illustrate implementation of each point by real estate industry CRM example so that it becomes "real world".
1. E-mail product details to prospect:

As visitor
signs up your website &
clicks through various parts of site,
you come to know what products and services he/she browsed.
Therefore, in accordance with his interest and budget, you can configure CRM so that it will send details of saved things on his email id.
Of course, website has to have filters in the first place.
Then only CRM comes to know visitor's choices like
max range
min range
commercial / residential property
region
etc. –in our case i.e. Property CRM.
This way, property broker does not have to personally or virtually meet prospect to give depth information about specific building.
Try to
keep sign up form minimized or
allow visitor to log in with Google or Facebook.
Otherwise this technique will not work.
2. Greet user on mobile:
Configure CRM to send SMS as soon as new user signs up on
your business website.
You can set appropriate SMS template from time to time.
Like when you allow seasonal discount for certain products that visitor viewed.
Greeting user is an action which indicates that
business vendor is equally interested to sell and
has concern for client satisfaction.
Also, messages should be personalized with name, persona etc.
In SMS content, you should not create an impression that visitor is just one of many hundred customers of your vastly spread business environment.
In case of property CRM, settings can be adjusted to send address of particular land or building he/she viewed.
It is much help.
From anytime onwards, he would NOT need internet connection to see that amenity again.
3. Use GPS on CRM app to arrange in person meeting/follow up:
Until now, you have collected leads data by storing it in CRM rather in individual notepad files or in disparate sources.
This step is to stop surfing and start targeting.
GPS enabled CRM app can lead you or your representative to a prospect's door. Details of buyers is known by CRM software as well.
And who needs a sales call or email when face-to-face meeting is possible?
You should check that Google map is well integrated in CRM system and that it is working.
In case of property CRM, site visit would be perfect activity to arrange as application of this point.
As a step of sales automation process, CRM scheduler is used to send reminders and notification mails to prospects.
This essentially consists of form which stimulates prospects to fill in response so that property agent is received alert of site visit on specific date, day and time.
4. Receive payment from a variety of gateways and generate invoice:
This step may not be fully automated depending on type of products/services.
For instance, there is usually little addition of various amounts like tax or maintenance charges once a broker fixes deal for selling of an apartment.
But this does NOT happen in case of standard electronic goods.
Once final price is decided and order is placed, you can generate tailored invoice simply from contacts console of CRM, with 1 click.
If you have to interrupt manually to complete it or make it error-free, it is NOT good CRM software.
As bank account is credited and you see that– again from within CRM only, rule can be created to mail invoice and billing information to your customer, automatically.
5. Automate after-sales support:
Modular CRM packages are packed with trouble ticket management system that allows a business owner to prioritize and resolve queries of existing client base.
That's it.
Your backoffice and marketing departments are with you in your handheld device, no matter where you are in the world.
What is appreciated is little good internet connection that accesses database behind the application faster.
Hope this discussion proved worthy for you and your business.
CRMTiger helps SMEs and freelancers save time and efforts by nurturing customization of leading CRM software tools.
"We can see that CRM software leads this technology investment, with 49% of businesses planning to increase spending."
Let us know if you needs more information on this


Do You Need More Information ?
For any further information / query regarding Technology, please email us at info@crmtiger.com
OR call us on +1 630 861 8263, Alternately you can request for information by filling up Contact Us