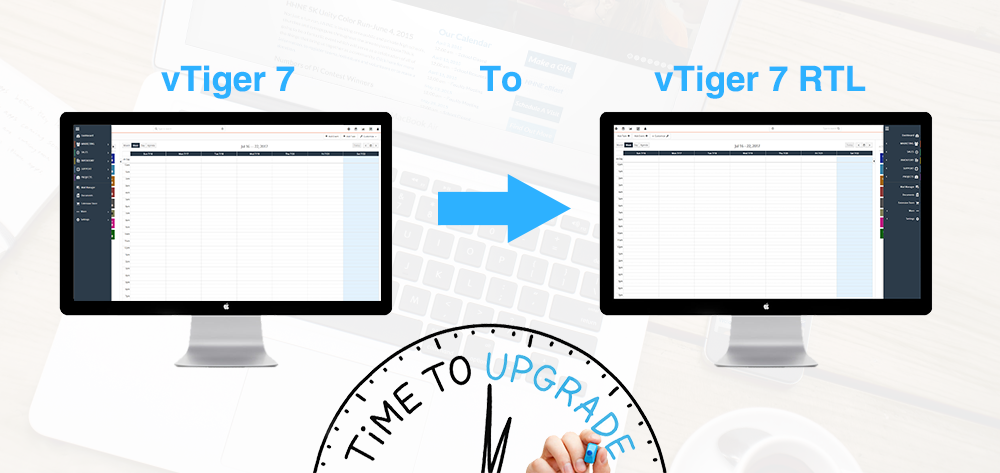 Are you looking for RTL languages (Right-to-left Hebrew, Arabic, Persian etc.) extension for vTiger 7.x CRM ?

Stop surfing and start using what you need.
CRMTiger is bringing latest updates to its previously released RTL theme. It is fully compatible with 7.0 and previous versions as well.
Customers from Israel, Saudi arabia, Kuwait etc. countries often demand CRM system in RTL fashion so they can easily navigate and use system in localized manner.
| Non RTL Theme | RTL Theme |
| --- | --- |
| | |
Give your business extra mileage by utilizing this CRMTiger plugin simply by 1-click install.
If you are first time visitor and never used RTL extension in vTiger CRM, please go through below link of our website to get acquainted with it:
http://crmtiger.com/blog/rtl-themes-feature-for-vtiger-crm/


New Features:

1. Newly added Taskbar / Start Menu:
All screens were available in RTL way in the module we had
already launched in the past.
To facilitate your proceedings, we have added START widget to
walk you through any user interface within span of 1 or 2 clicks.
Just like Windows 8 style, TASKBAR / START button is attached to
upper right corner to help you avoid staircase.
It is mobile responsive, and does NOT clutter screen in mobile app.
2. Dashboard – live snapshot of your business:
Data transparency is key for running a successful business.
Dashboard acts as storyteller.
It succinctly shows important data points and reminds you of any
severe aspect touching bottom-line
| Non RTL Theme | RTL Theme |
| --- | --- |
| | |
As in above screenshot, RTL dashboard discovers a wide range of
Insights by dissecting data with click-to-filter option.
3. Settings shortcut :
During times, you may need to see System info.
Compatible with RTL taxonomy, this tab shows you
The settings page lets you configure the general appearance and
behavior of your CRM app.
You can exercise over
Calendar Settings
Users
Workflows
Module Preferences
etc.
Demo URL: Click Here
Click Here to buy this theme
Please view more pictures of our RTL Themes.
Let us know if you needs more information on this


Do You Need More Information ?
For any further information / query regarding Technology, please email us at info@crmtiger.com
OR call us on +1 630 861 8263, Alternately you can request for information by filling up Contact Us