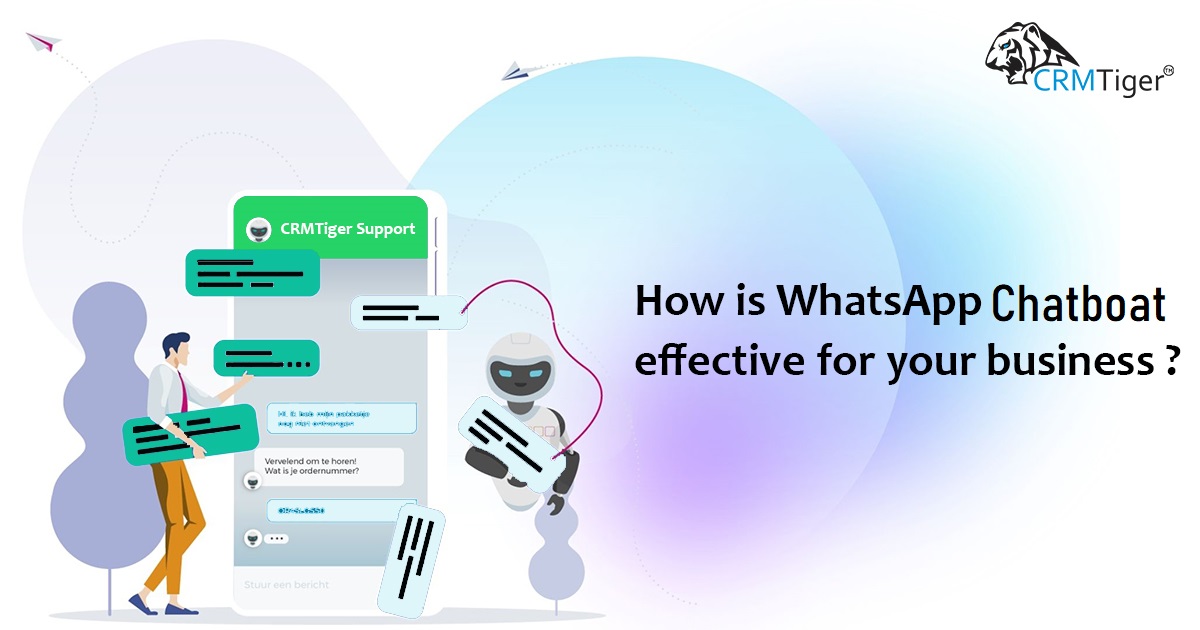 Are you looking to automatically reply / ticket generation to your Customer from WhatsApp?
WhatsApp Chatbot is an important tool to run your sales/support/backoffice operation automatically upto 50%.

You probably have seen some companies use chatbots on the Messenger from Meta, but what about WhatsApp bots? They are the next big trend in messenger communication, and can really help your business. In the following guide, we explain what chatbots are, what WhatsApp bots can do for you—and how easy it is to build your own!
Do you know about the WhatsApp economy?
175 million people message a business account every day?
Even if your company had to handle only a tiny fraction of 0.0001 percent of these messages, you would still end up with 175 messages per day.
a lot of inquiries, questions, requests, and complaints to handle if you want to give each customer the attention they deserve and solve their issues fast.
And that's exactly where a WhatsApp bot comes in!

What is WhatsApp Bot?
The automated tool can help your customer service, but also boost your business in many other ways. In the following, we explain what WhatsApp chatbots are, what they can do for your company, how you can set up one for your business (easily!), and how other organisations are already using them successfully.
a chatbot is therefore a computer program that enables interaction between humans and technology.
Originally, chatbots were only designed for text-based communication, as you can see from the definition above. Nowadays, with more advanced technology, there are also voice bots, like Alexa or Siri.
Accordingly, people distinguish between chatbots (for text) and voice bots (for spoken language), but often the original word "chatbot" is still used as an umbrella term for both.
Why should businesses use WhatsApp?
Why specifically on WhatsApp? Because it's one of the hottest messengers in the world right now! Worldwide, people send out more than 100 billion messages daily on the messenger.
Many times that is WhatsApp! Companies use the messenger for the following reasons:
User numbers: WhatsApp has more than two billion users worldwide, so even if you don't use WhatsApp, your customers probably do!
Target group: In addition to young people, over two-thirds of people over 65 also use a messenger app.
Efficiency: Your company can answer customer inquiries on average 60 percent faster than by phone or email using WhatsApp.
Popularity: Companies rely on channels such as phone, email, and SMS for customer communications. But 61 percent of customers today want to talk to them on messengers like WhatsApp.
Acceptance: Nearly 50 percent of customers want to communicate with companies via WhatsApp. More than 65 percent of online shoppers want service and advice through WhatsApp!
Costs: With customer communication via WhatsApp you won't need to spend money on expensive call centers and old CRM systems!
However, there are a lot more things a WhatsApp bot can do for you:
Offer customer service 24/7 (bots don't sleep, and they don't get sick)
Increase customer satisfaction (they get help faster).
Guide clients more efficiently through sales funnels.
Bots can be designed to have personalised conversations with your customers, which increases customer engagement.
Safe communication with your customers (end-to-end encryption, and GDPR-compliant!)
Better user experience: There has been criticism that WhatsApp bots don't have buttons like the chatbots in the Messenger from Meta. Now, the WhatsApp Business API also includes interactive buttons for a better experience.
A WhatsApp bot can offer your business, your employees, and your customers a lot of benefits. However, before you roll out your chatbot, there are a few things you should consider first.
How do you design the right WhatsApp chatbot for your business?
Basically, a WhatsApp bot is there to help you achieve your goals. So, the first step to building a chatbot for your business, is to define these goals.
Clarify, step by step, how a chatbot will help you achieve the businesses' goals!
WHERE and HOW should WHO talk about WHAT: create a mini checklist for your chatbot expectations!
You don't always need artificial intelligence to create a chatbot, you just need a good, human idea!
A lot of tasks that businesses want to automate can be solved with a chatbot builder, so there's no need to make your bot more complicated than it has to be. However, for more complex business solutions, there are also easy ways of designing AI-based bots!
You should consider when planning a chatbot:
Your business goals are only the first half of the equation of building a successful WhatsApp bot. The other half is to think about the best bot for your clients as well. After all, it will be them who interact with the bot, so you want to make sure that the human-bot-interaction is as smooth as possible. Ask yourself the following questions:
1. What goal should a (marketing) chatbot have?
2. What tonality should my chatbot have?
3. What should the chatbot talk about?
4. Do I want to offer a guided or free dialogue?
5. How do I design a chatbot dialogue?
6. How do I react to questions that my chatbot can't answer?
Once you have answered the basic questions around your bot, you are ready to create your own WhatsApp bot.
Keep in mind that chatbots for WhatsApp work differently than chatbots for Facebook or the Web.
Click here for more information.
Click here to learn more on how to install and use CRMTiger WhatsApp Integration.
Hope you found this blog useful.
Please contact us on info@crmtiger.com if you needed further help from us.
Let us know if you needs more information on this


Do You Need More Information ?
For any further information / query regarding Technology, please email us at info@crmtiger.com
OR call us on +1 630 534 0223, Alternately you can request for information by filling up Contact Us