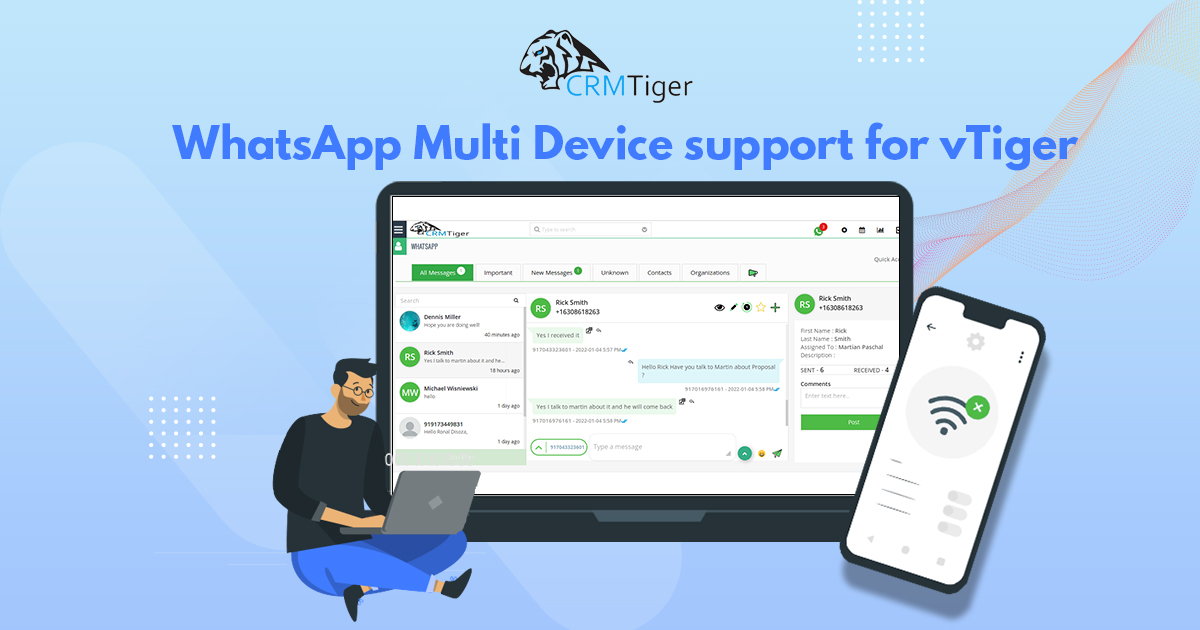 Do you run Web.WhatsApp without the Internet in Mobile? No?
Now you can run web.whatsapp on any device without the internet on a mobile device.
WhatsApp launch MultiDevice support for Web.WhatsApp to access Web.WhatsApp in More than one device.

What is WhatsApp MultiDevice?
Use WhatsApp on Web, Desktop, and CRM for vTiger by linking them to your phone. You can use up to four linked devices and one phone at a time.
Your phone won't need to stay online to use WhatsApp on linked devices, but if you don't use your phone for over 14 days, your linked devices will become disconnected.
You'll still need to register your WhatsApp account and link new devices with your phone.
Click here to get more information about WhatsApp multi-device.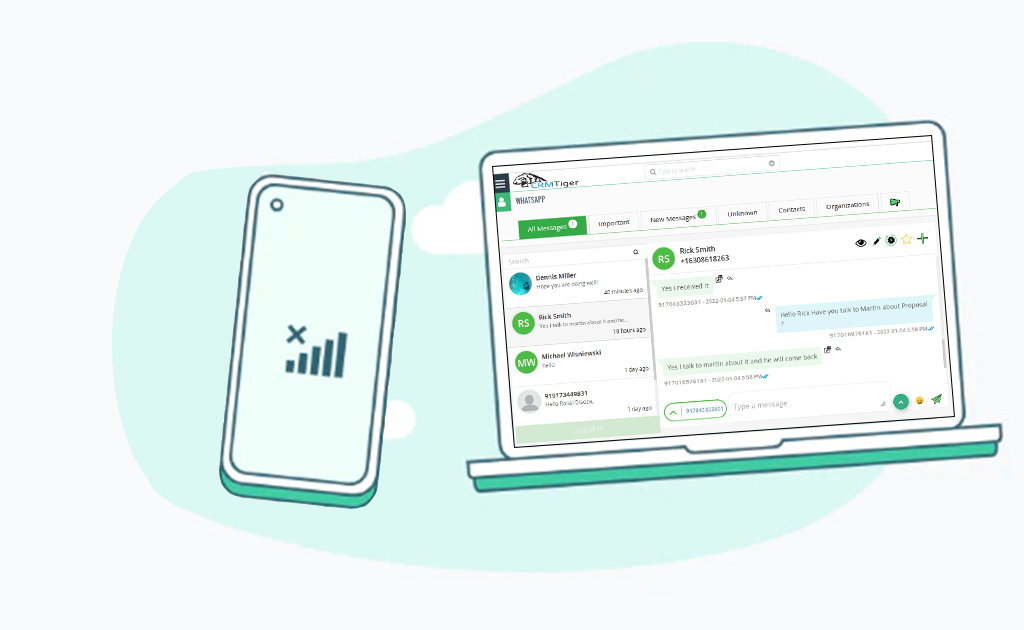 CRMTiger came up with new features for WhatsApp Multi Device features with the following advantage.
Support WhatsApp Multi Device so WhatsApp in CRM and Web.WhatsAppwork together.
Send/Receive WhatsApp message in vTiger without keeping your Phone Online.
Received notification on CRM for incoming WhatsApp messages.
Available for vTiger version 6.5,7.1,7.2,7.3,7.4
Click here to get more information about How to enable WhatsApp MultiDevice Support in your mobile if WhatsApp multi device is not updated.
Last but not least, CRMTiger lowered the monthly price for WhatsApp Integration for vTiger to $89 / Month. with support of Maximum 3
Note : If you enable Multi-Device Support on your mobile then you can't revert back to the older one.
How To Place Order for Multi Device.
1. Single Device support: Select this option when still you've Regular WhatsApp in your Mobile without multi-Device support



2. Multi Device support : Select this option when you enable Multi-Device support for WhatsApp. Click here for more information.
Click here to learn more on how to install and use CRMTiger WhatsApp Integration.
Hope you found this blog useful.
Please contact us on info@crmtiger.com if you needed further help from us.
Let us know if you needs more information on this


Do You Need More Information ?
For any further information / query regarding Technology, please email us at info@crmtiger.com
OR call us on +1 630 534 0220, Alternately you can request for information by filling up Contact Us