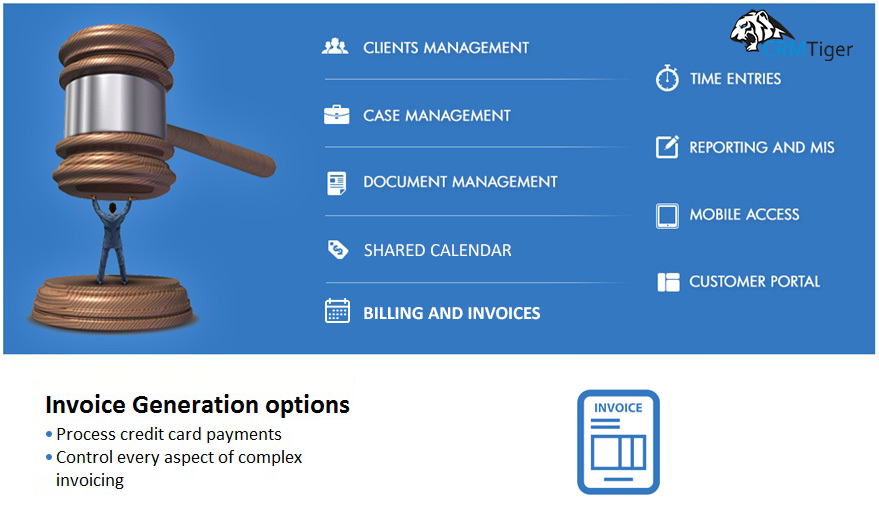 Streamlined invoice generation for a Lawyer's practice

"Legal Firms are increasingly using digital marketing and customer relationship management solutions to position themselves as subject matter experts in certain areas.

In total, 42% lawyers labeled their CRM projects as successes.
23% practices said it was too early to tell, but they were expecting to find successes too."
Client intake is all about how information is exchanged between lawyers and clients, and it sets the tone for entire relationship.



CRMTiger is the fastest growing CRM software for lawyers on the market.
Legal CRM furnished by CRMTiger has recently added brand new invoice creation functionalities in 7.x version of vTiger.
To generate state-of-the-art invoices to send to clients which contain all case information and activities break-out day wise, please go to Billing Center as shown below.
If you are vTiger user for a time being, you would be familiar with these screens.
"Create an Invoice" is a discrete option you are presented with, as in below screenshot, added by our technical team, not available in default vTiger CRM edition for lawyers:
Clicking on it will land you on a context-specific user interface that asks a practitioner to choose case name for which he wants to create an invoice.
Once selected the case, you're further drilled down to the depth screen that requests to select individual tasks for which you want to create invoice.
It is vital step, because you don't want to bill the client with same activities for which he/she already paid.
Case might run for a longer period of time, and you need to charge monthly or weekly or per event/activity basis.
After clicking on "Bill to Invoice" button, Lawyer is taken to final screen where he can see or modify any bit of information before saving/exporting pdf to mail to client.
Above screen gives you overall view of billing and accounting options where you are accompanied with quite relevant data points like
outstanding amount (if any)
billing address
invoice date (if you want to modify)
any description you wish to publish
etc.
CRMTiger provides CRM solution for lawyers as hosted in the cloud(monthly subscription based) or as an on-premise deployment.
To know plan and pricing or about companies who use CRMTiger's Law CRM, please review this webpage
Let us know if you needs more information on this
Do You Need More Information ?
For any further information / query regarding Technology, please email us at info@crmtiger.com
OR call us on +1 630 861 8263, Alternately you can request for information by filling up Contact Us