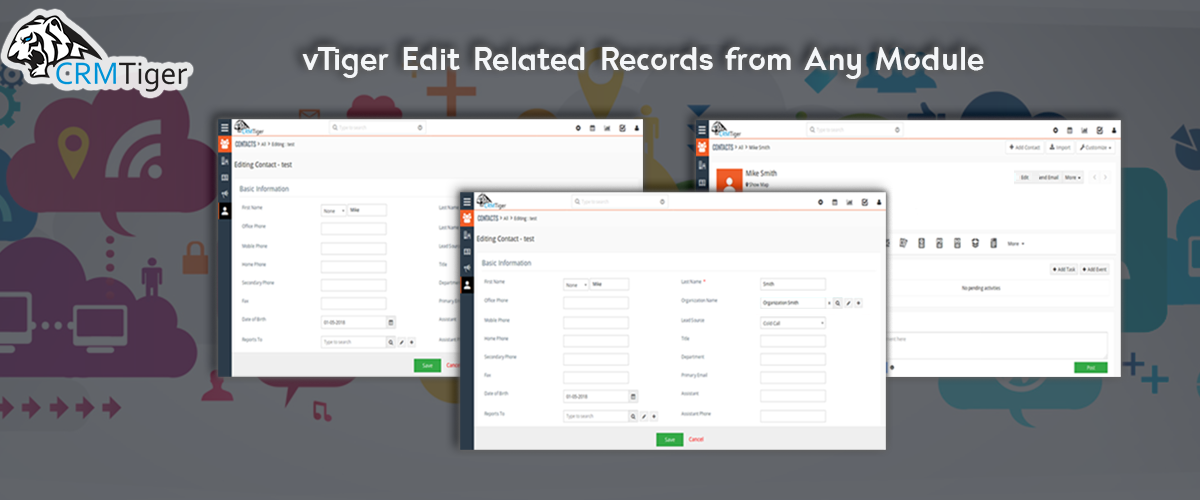 CRMTiger Customized vTiger to Add an option of Quick Edit for vTiger to give the ability to related records (One to Many,One to One) when in Edit/Create view of primary record. The extension adds "Pencil" icon next to every Relation field with which you can avail the editing capabilities.

Extensions Features:
Here are some of the key features that make our extension unique:
Supports all one to many and one to one related fields.
Adds "Edit" Icon to all relevant fields.
Enables 'one click' edit of the related record (Quick Create View).
Module Manager Compatible.
How to edit Organization from the Contacts
Open a "Contact" and click on the "Edit" button.
Here you can see next to the "Organization Name" there is a "Pencil Icon" click on it to open a Quick Edit window.
It will allow you to change the information on the Organization while you're still on the Contacts.
Here you can see the applied changes.

Feel free to contact us. We would be happy to assist you.
Hope you found this blog useful.
Please contact us on info@crmtiger.com if you needed further help from us.


Do You Need More Information ?
For any further information / query regarding Technology, please email us at info@crmtiger.com
OR call us on +1 630 861 8263, Alternately you can request for information by filling up Contact Us