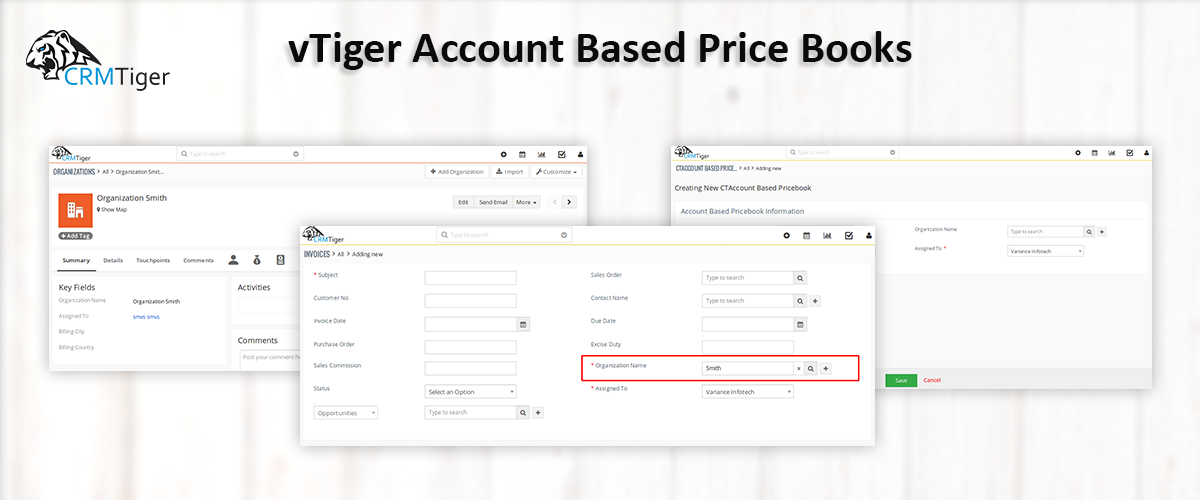 CRMTiger built a module for companies who want Account based price books.
This will help companies who have different prices for different Accounts (Customers) as a part of their policy due to different geolocations, sales channels, services associated with the product or any other reason.

Screenshorts:

With this module CRM user can easily assign a Pricebook to an account. The assigned price book then becomes the default one for all future quotes, sales order, and invoices generated for that account.
When the user selects a product, Vtiger Account Base Price Book Module will look for the price of that product in the account/organization assigned price book and it will fill the price field with the list price based on assigned pricebook for that particular account/Organization.
Features:
Manage various levels of pricing for products & Clients
Each user can work with their price books assignments
When the user chooses a product, it will load the price for that particular account. No manual input needed
Confirmation box before updating the price
Supports Vtiger 6.x and 7.x
Feel free to contact us. We would be happy to assist you.
Hope you found this blog useful.
Please contact us on info@crmtiger.com if you needed further help from us.


Do You Need More Information ?
For any further information / query regarding Technology, please email us at info@crmtiger.com
OR call us on +1 630 861 8263, Alternately you can request for information by filling up Contact Us