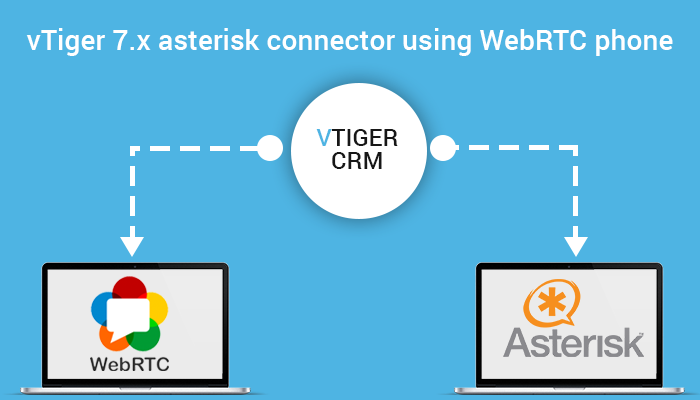 WebPhone(WebRTC) Integration for calling with vTiger CRM 6.x and 7.x

CRMTiger believe in making things easy to save time and increase productivity. With Asterisk connector using WebRTC Phone for vTiger Version 7.x and 6.x you can start calling your Leads and Contacts from within your CRM. Gone are the days where you open a lead, see the phone number and dial from your Mobile or landline phones.

Advantages of Implementing Webphone Connector with vTiger:
Make a Call from CRM to a Contact or a Lead simply by clicking any phone number mentioned in the record.
No need of any IP Phone or Softphone
No Pop ups, No Navigation, call appears as a strip in same vTiger page below menu and above a record or the record list.
Make outgoing calls or even receive incoming calls
New – Unknown numbers which are not saved in any record, CRM will offer to save this number as a new Lead, Contact or Organization while the call is in progress.
Use CRM side by side while making call and during the call is in progress.
Call, put call on hold or hang up by a single click
Implementation turn arround time maximum 1 week (it may be varying on the server configs and asterisks configs )
Watch the Video:
Hope you found this blog useful.
Please contact us on info@crmtiger.com if you needed further help from us.
Let us know if you needs more information on this


Do You Need More Information ?
For any further information / query regarding Technology, please email us at info@crmtiger.com
OR call us on +1 630 861 8263, Alternately you can request for information by filling up Contact Us